Highlights of 2016
CULTURAL BOYCOTT
The call for a cultural boycott of Israel issued in 2004 by the Palestinian Campaign for the Academic and Cultural Boycott of Israel (PACBI) aims to counteract Israel's use of cultural works and events to normalize its occupation and colonization of Palestine and whitewash its violations of international law. In 2016, Adalah-NY continued its work to promote a proactive cultural boycott campaign in New York City. We organized and participated in national and international actions asking artists to refrain from performing in Israel, and also protested Israeli cultural institution events here in NYC. In addition, Adalah-NY began working on creating a community of artists in New York interested in upholding the Palestinian boycott call. This year we also began to work on promoting Palestinian artists and raising awareness on the impact of the Israeli occupation and colonization on Palestinian culture and cultural workers.
March 14, 2016: Adalah-NY member Riham Barghouti published an article "For Palestinians, Art Cannot Be Separated from Politics" on The Daily Vox in support of the cultural boycott of Israel.
April 2016: Adalah-NY launched an initiative to demand that PEN America reject Israeli government funding for their 2016 World Voices Festival. The initiative was covered by several media outlets including The Guardian, The New York Post, Democracy Now, and The Forward.
April 2, 2016: issued a letter signed by over 12,500 people, including 200 writers and literary figures, such as Pulitzer Prize winners Junot Díaz, Richard Ford, and Alice Walker, and award-winning author Louise Erdrich.
April 20, 2016: organized a delegation from Adalah-NY, O/R Books and Verso Books to deliver the letter during which time there was an impromptu meeting with PEN American Center Executive Director Suzanne Nossel. While stating that the letter raised "legitimate concerns" she maintained PEN America Center would not return Israeli government funding.
April 25, 2016: organized a protest at the opening night of the Festival. Adalah-NY created a series of social media postings outlining the case for cultural boycott using quotes by Palestinian, Arab and international writers calling on PEN to refuse Israeli government funding.

July - September 2016: Adalah-NY, in partnership with Jewish Voice for Peace (JVP), organized an international campaign in solidarity with Palestinian poet Dareen Tatour. Dareen was arrested and charged with incitement for Facebook postings and a poem entitled "Resist My People, Resist Them" in October 2015. The campaign garnered media coverage by several outlets including Electronic Intifada, Ha'aretz, Hyperallergic, Artforum and Salon.

July 12, 2016: Launched campaign with an open letter signed by 150 renowned writers, poets, translators, artists and literary figures including Susan Abulhawa, Rae Armantrout, Carl Dennis, Dave Eggers, Carolyn Forché, Jorie Graham, Naomi Klein, Viet Thanh Nguyen, Naomi Shihab Nye, Claudia Rankine, Tracy K. Smith, Natasha Trethewey, Ayelet Waldman, Alice Walker and Jacqueline Woodson calling for the immediate release of the Palestinian poet who was imprisoned for her poetry.

August 4, 2016: Issued a joint press release with JVP with an update on the Dareen Tatour case including a small victory won when an Israeli judge ruled to allow the poet to continue her house arrest in her family home near Nazareth rather than in an apartment that her family was forced to rent outside Tel Aviv.

September 1, 2016: Issued a joint press release with JVP highlighting an ad placed in The Nation by Jewish Voice for Peace calling for international solidarity with Dareen Tatour and updates on her case.

September 30, 2016: Adalah-NY organized "We Teach Life: Rafeef Ziadah with Phil Mansour" - a powerful evening of spoken word poetry and music at the Nuyorican Poets Cafe. The event was attended by over 100 people and co-sponsored by The New School Students for Justice in Palestine. The event was organized as part of Ziadah's North American tour celebrating the release of her new album, We Teach Life.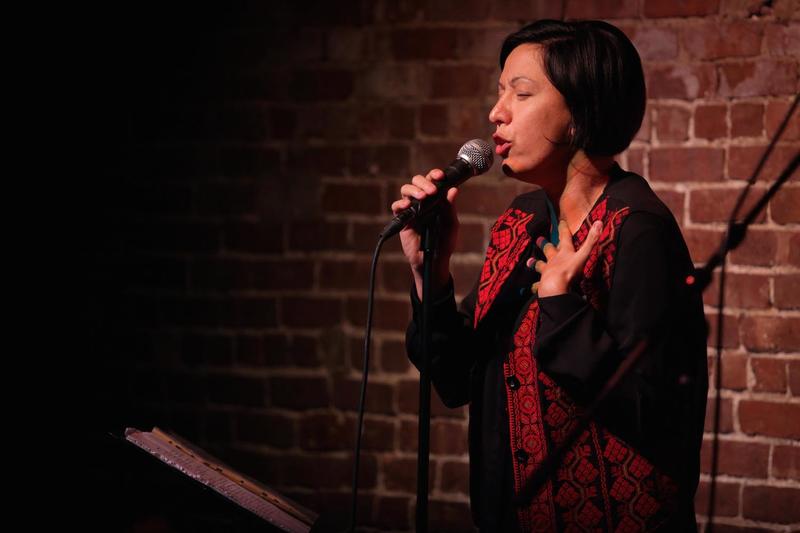 October 1, 2016: Adalah-NY organized an informal salon with Palestinian poet Rafeef Ziadah, musician Phil Mansour, and 25 local cultural workers and artists. The salon focused on how Israel uses culture to whitewash its occupation, colonization and apartheid practices. Participants discussed how cultural practitioners in New York can support the Palestinian struggle in general, and the Palestinian call for cultural boycott in particular.
ECONOMIC BOYCOTT
Economic boycotts provide a good way for individuals and groups to take action against the Israeli occupation and colonization of Palestine. Israeli and international companies profit from the occupation and enable the continuation of the gross violations of international law and Palestinian human rights carried out by Israel. In 2005, over 170 Palestinian civil society organized issued a call to the international community to carry out boycott and divestment initiatives to put pressure on companies to end their complicity.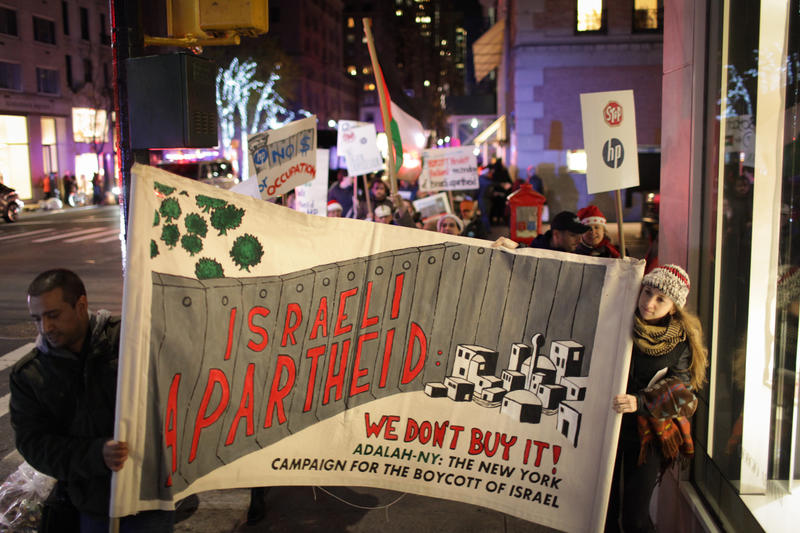 BDS MOVEMENT BUILDING
Adalah-NY participated in a number of conferences and events and carried out workshops and presentations in an ongoing effort to develop the BDS movement in the United States and internationally.
Networks:
Member of the International Boycott HP Network

Member of United States Campaign for Palestinian Rights

Member of NYS Freedom to Boycott Coalition

When the NY State Senate passed anti-BDS bills and then tried to get the Assembly to pass them, groups across the state came together to mobilize against these bills. Over 100 organizations - including free speech groups, Palestine solidarity groups, and others - signed a letter to all the NYS legislators. No bills were passed in the legislature but on June 5, before marching in the "Salute to Israel" parade, Governor Cuomo issued an executive order calling for companies, organizations, and individuals that support the BDS movement to be barred from doing business with New York State. Within a week a protest was held outside his Manhattan office calling for the right to boycott and maintaining that boycotting Israeli apartheid was the right thing to do. Three more protests followed; at his Albany office, at his home in Mt. Kisco, Westchester County, and at the NYS Fair in Syracuse. In December, Cuomo's office quietly issued a list of companies to be boycotted by the state (oddly, none of the companies were US-based, none have contracts with New York state, and at least some companies on the list do not support boycott campaigns).
Conferences / Presentations / Workshops:
March 30, 2016: BDS 101 Workshop for Rutgers University Students for Justice in Palestine carried out by Michael Madormo and Leila Nashashibi.

September 4, 2016: Workshop for Iraq Veterans Against the War at their 2016 Convention in Stony Point, NY led by Hani Ghazi. In November 2016, Iraq Veterans Against the War adopted a resolution to endorse the Boycott, Divestment, and Sanctions Movement, and to join the coalition of the US Campaign for Palestinian Rights.

October 14-16, 2016: Participated in the USCPR annual conference as member group.

November 30, 2016: BDS: A Striving Initiative for Palestinian Liberation. Panel at Hunter College, CUNY with Riham Barghouti.
SOCIAL MEDIA
This year Adalah-NY maintained a dedicated social media team to amplify our presence on Facebook and Twitter. Adalah-NY also created an Instagram account in 2016.
By the end of 2016:
Adalah-NY's Facebook page following grew from 3,703 "likes" (December 31, 2015) to 4,245 "likes" (February 19, 2017)

Adalah-NY's Twitter following grew from 5,579 followers (December 31, 2015) to 6,690 followers (February 19, 2017)

Views of Adalah-NY's cultural boycott video (released on November 17, 2015) reached over 136,000 on Facebook and over 29,500 on YouTube

Adalah-NY's Instagram profile had 1,897 likes on 97 posts since its creation less than two months earlier (on November 14, 2016)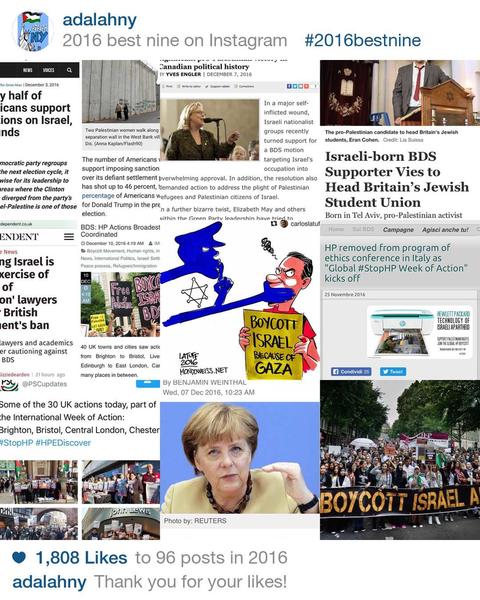 FINANCIAL REPORT
In 2016, WESPAC Foundation continued to act as our fiscal sponsor.
2016 REVENUE
Donations from individuals: $5,670
We Teach Life event (9/30/16) tickets: $1,229
Total 2016 revenue: $6,899
2016 EXPENSES
Web site hosting, design, maintenance, services; email services: $2,298
Demonstrations and actions: $46
We Teach Life event (9/30/16): $1,310
Meeting costs: $428
Magazine advertisement: $150
Organizational dues: $100
Educational materials (printing and postage): $163
Administrative fees: $609
Total 2016 expenses: $5,104