Highlights of 2017
CULTURAL BOYCOTT
The call for cultural boycott of Israel, issued in 2004 by the Palestinian Campaign for the Academic and Cultural Boycott of Israel (PACBI), is intended to counteract Israel's use of cultural works and events to normalize its occupation and colonization of Palestine and to whitewash its violations of international law. In 2005, the Israeli government launched a public relations campaign specifically to use art to show Israel's "prettier face," known as Brand Israel.
In 2017, Adalah-NY continued its work to promote cultural boycott in New York City. The group organized protests of performances by complicit Israeli cultural institutions in NY and letter writing campaigns to international artists planning to perform in Israel. We also organized events to support and promote the work of artists and cultural workers upholding the Palestinian call for boycott. 
January – February 2017: Adalah-NY carried out  a successful campaign, supported by leading literary figures, to put pressure on PEN America to reject Israeli government sponsorship for its World Voices Festival. On February 23, 2017, Adalah-NY issued a press release welcoming the decision of PEN America not to accept Israeli government funding. 
January - February 2017: Adalah-NY participated in a North American boycott of the Israeli Batsheva Dance Company 2017 tour. Batsheva is being boycotted by advocates for Palestinian rights due to its role as what Israel's Ministry of Foreign Affairs calls one of Israel's greatest cultural ambassadors. The dance company is part of the Israeli government's Brand Israel initiative that uses art and culture to "show Israel's prettier face" and divert attention from Israeli repression. Batsheva's North American tour was supported by the Ministry. Adalah-NY issued an open letter from several North American organizations asking Batsheva to take a stand against the Israeli government's violations of Palestinian human rights. On February 4, 2017 Adalah-NY organized a protest of the Israeli Batsheva Dance Company performance in New York at the Brooklyn Academy of Music.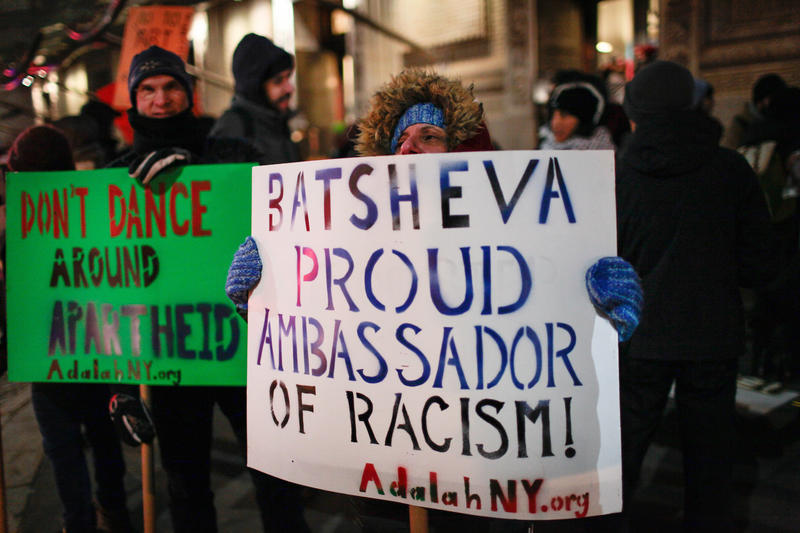 March 24, 2017: Adalah-NY organized a protest with Columbia Apartheid Divest during the 2017 International Israeli Apartheid Week against Israeli musician Idan Raichel during his performance at City Winery in Manhattan. Raichel calls himself a cultural ambassador for Israel and is an outspoken and uncritical supporter of the Israeli army. He regularly performs at Israeli government events as part of the Brand Israel public relations campaign, which uses art and music to divert attention from Israel's violations of Palestinian rights.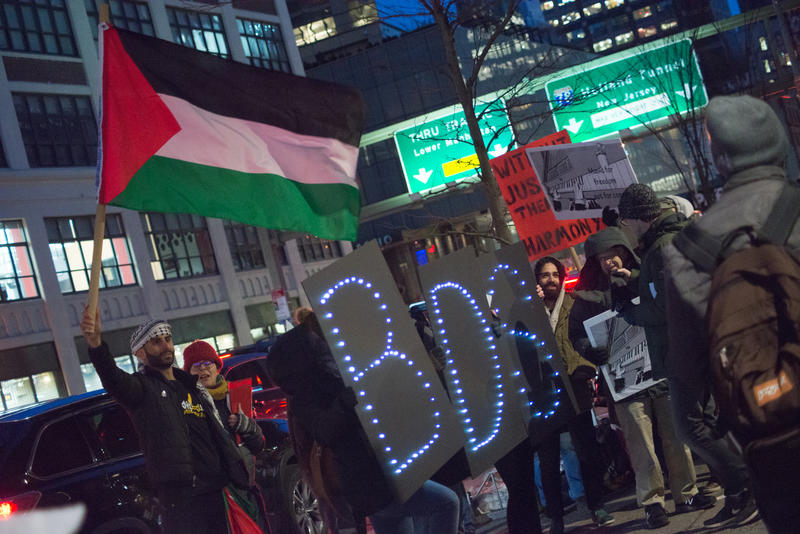 July, 2017: Adalah-NY launched a campaign calling on New York's Lincoln Center to cancel four performances of a play by two Israeli theater companies that had financial backing from the Israeli government. The two Israeli theater companies have also performed in Israeli settlements. More than eighty theater artists, including winners of four Pulitzer Prizes, three Tony Awards, and nine Obie Awards. called on this leading US arts institution to cancel the performances by the Israeli companies..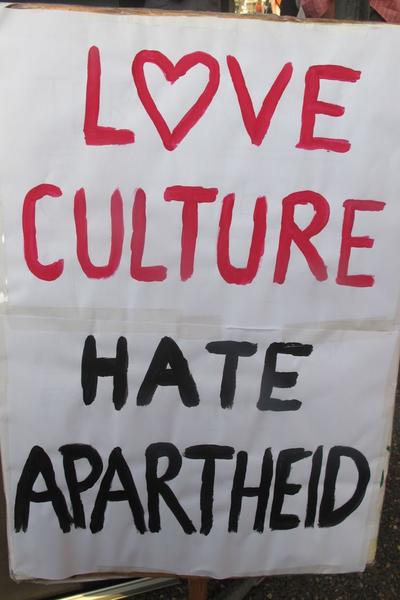 September 18, 2017: Adalah-NY, with Jewish Voice for Peace: Arts & Culture, organized a literary panel, Free (Speech) Palestine, Writers Talk About BDS and Beyond. Writers Susan Abulhawa and Sarah Schulman, poet Aja Monet, and legal expert Radhika Sainath discussed the repression of Palestinian cultural production as well as the increasingly harsh attempts in the United States to silence criticism of Israeli government policies. The panel was cosponsored by Haymarket Books, Just World Books, OR Books, Palestine Festival of Literature, and Verso Books.
Video excerpts from the 9/18/17 panel 
October 25, 2017: Adalah-NY organized a protest of the Israel Philharmonic Orchestra (IPO) at Carnegie Hall. Protestors, accompanied by the Rude Mechanical Orchestra, a NYC radical marching band. sang and chanted, capturing the attention of attendees and passersby. The IPO is a self-proclaimed cultural ambassador for the state of Israel, helping to divert attention from its human rights abuses, as part of the Brand Israel initiative. Closely intertwined with Israel's militarism, it provides free concert tickets to Israeli soldiers, and runs a program that brings Israeli soldiers who are musicians to practice music with at-risk children.
A small group of protesters from the anti-Arab hate group the Jewish Defense League came out to show support for the IPO, waving Israeli flags and displaying a sign that said "Level Gaza," as can be seen in the video of the protest. 
ECONOMIC BOYCOTT
Economic boycotts provide a good way for individuals and groups to take action against the Israeli occupation and colonization of Palestine. Israeli and international companies profit from the occupation and enable the continuation of the gross violations of international law and Palestinian human rights carried out by Israel. In 2005, over 170 Palestinian civil society organizations issued a call to the international community to carry out boycott and divestment initiatives. Economic boycott campaigns aim at putting pressure on Israeli and international companies profiting from the Israeli occupation and colonization of Palestine in order to compel them to end their complicity.
December 21, 2017: Adalah-NY, and other human rights advocates celebrated the closure of the showcase Madison Avenue diamond store of Israeli billionaire and settlement-builder Lev Leviev. For the 11th consecutive year, activists sang social justice-themed holiday carols outside Leviev's now former store. With this action, Adalah-NY ended its campaign that began in 2007 against the companies of the Israeli diamond magnate and settlement builder Lev Leviev. During the campaign, Adalah-NY organized over 30 protests outside his store on Madison Avenue, while successfully persuading governments, investment funds, celebrities, and international aid agencies to distance themselves from Leviev and his company Africa Israel. Though Africa Israel has made several claims that they are no longer building settlements, there is still no definitive evidence that they are halting their illegal activities. Another Leviev company, Leader Management and Development, has developed the illegal West Bank settlement of Zufim on the land of the Palestinian village of Jayyous.  Adalah-NY will continue to monitor the situation with Leviev, Africa Israel, and Leader Management and Development, and support any campaigns that target the company until it stops confiscating and building settlements on Palestinian land.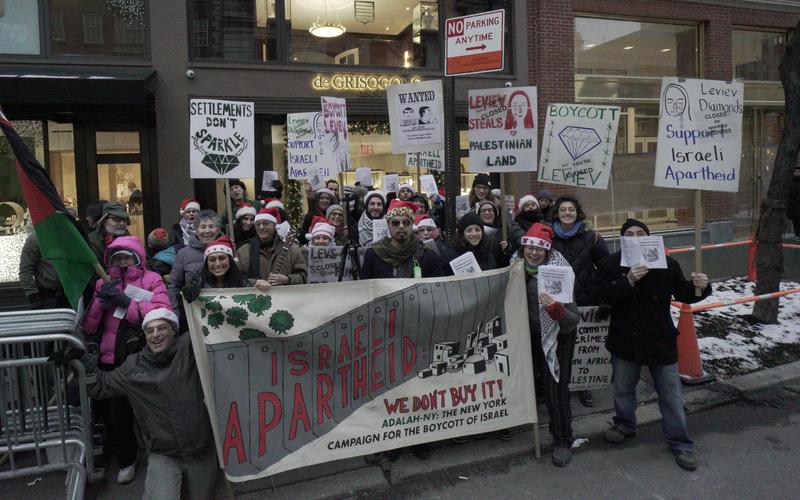 December 26, 2017: Adalah-NY released a brief video with highlights of the 11-year campaign boycotting Lev Leviev and his companies Africa Israel and Leader Management and Development. 
MOVEMENT BUILDING
In 2017, Adalah-NY began to expand its focus to incorporate events that address the underlying connections between the Palestinian struggle for liberation and other social justice movements in the United States.
April 2017: After an intensive collective reading of the Vision for Black Lives Matter, Adalah-NY publicly endorsed the Platform: 
Adalah-NY endorses the Vision for Black Lives platform created by the Movement for Black Lives Coalition. We aspire to integrate into our work the aims and principles it outlines, as well as its broader vision, and support in the building of a world without white supremacy and all the institutions that reinforce it.
April 5, 2017: Adalah-NY issued a statement in solidarity with Palestinian BDS activist Omar Barghouti after Israeli government attacks against him. Israel has been carrying out campaigns against numerous Palestinian BDS and human rights activists as part of the efforts of the "dirty tricks" or "tarnishing" unit the Israeli government reportedly established in 2016 to delegitimize groups and individuals that support BDS.
April 25, 2017: Adalah-NY co-sponsored event "Freedom Fighting Under State Repression" featuring Omar Barghouti, co-founder of the Boycott, Divestment and Sanctions movement (BDS) in conversation with Minister and organizer Nyle Fort. 
May 24, 2017: Adalah-NY participated in the Salt Water Challenge in support of Palestinian prisoners on hunger strike.
November 29, 2017: To mark the 40th anniversary of the United Nations Observance of the International Day of Solidarity with the Palestinian people, Adalah-NY held a panel on "The Criminalization of Home: Organizing to Protect Communities from NYC to Palestine." The panel was co-organized with Addameer Prisoner Support and Human Rights Association, Black Youth Project–100 NYC chapter, and the Center for Constitutional Rights, and held at Verso Books. The panel explored the different ways criminalization fractures communities and separates people from the place(s) they call home. It featured Darializa Avila-Chevalier of BYP100, Mujahid Farid of RAPP (Release Aging People in Prison Campaign), and Sahar Francis of Addameer. Videos of the panel in full and selected highlights are available on the Adalah-NY website.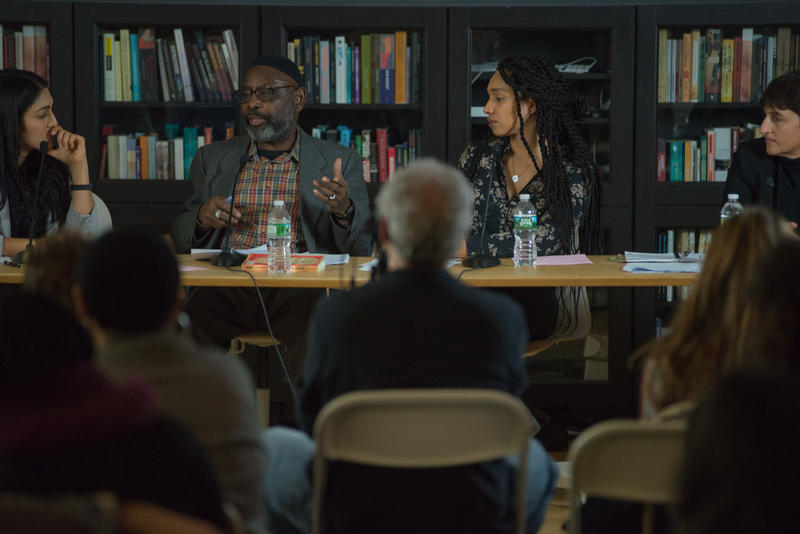 Adalah-NY participated in a number of conferences and events and carried out workshops and presentations in an ongoing effort to grow the BDS movement in the United States and internationally.
Networks:
Member of the International Boycott HP Network

Member of United States Campaign for Palestinian Rights

Member of NYS Freedom to Boycott Coalition – Coalition of over 100 organizations responding to attempts by New York politicians and legislators to stop the BDS movement.
Conferences / Presentations / Workshops:
January 14, 2017: Adalah-NY members Allison Brown, Maia Ramnath and Jenna Bitar carried out a presentation at Anti-Trump Free School: "Boycott and Divestment as Tactics: Reflections from Palestine Solidarity Organizing."

March 6, 2017: Adalah-NY member Riham Barghouti spoke on a panel "What Now: Palestine in the Trump Era," organized by Students for Justice in Palestine at Rutgers University, New Brunswick.

June 12, 2017: Adalah-NY member Riham Barghouti was a guest speaker on a panel after the screening of the film "Arna's Children" organized by the Friends of Jenin Freedom Theater.

November 2, 2017: Adalah-NY member Felice Gelman spoke at Palestine Teach at Sarah Lawrence College organized by Workers Justice.

December 3, 2017: Adalah-NY member Riham Barghouti spoke on a panel: "Civil Liberties Under Attack: Repression Against Palestinian Rights Activists in the US, Israel and Palestine," organized by Northern New Jersey Jewish Voice for Peace.
Protests: Adalah-NY helped organize and/or participated in the following demonstrations. 
SOCIAL MEDIA
This year Adalah-NY maintained a dedicated social media team to amplify our presence on Facebook, Twitter and Instagram (below numbers as of February 22, 2018). 
Adalah-NY's Facebook following grew to 4,670.

Adalah-NY's Twitter following grew to 7,370.

Adalah-NY's Instagram following grew to 6,392.  
FINANCIAL REPORT 
In 2017, WESPAC Foundation continued to act as our fiscal sponsor.
2017 REVENUE
Donations from individuals: $7,431

Contributions collected at special events: $497
Total 2017 revenue: $7,928
2017 EXPENSES
Web site hosting, design, maintenance, services; email services: $2,626

Demonstrations and actions: $296

Special events: $1,879

Meeting costs: $213

Magazine advertisement: $150

Organizational dues & support for other organizations: $240

Educational materials (printing), postage, and supplies: $202

Administrative fees for donations: (paid to fiscal sponsor and online donation services): $775
Total 2017 expenses: $6,381