New York, NY,  March 24, 2017 - Braving the cold and wind on Wednesday night, thirty-five New York human rights advocates protested on the sidewalk outside Israeli musician Idan Raichel's performance at the City Winery in Manhattan. Raichel calls himself a cultural ambassador for Israel and is an outspoken and uncritical supporter of the Israeli army. Raichel regularly performs at Israeli government events as part of the government's Brand Israel public relations campaign, which uses art and music to divert attention from Israel's violations of Palestinian rights.
The protesters chanted, "Idan let us set you straight. Israel is a racist state." And "Voice of peace? That's a lie! Idan plays while people die!" They held signs saying, "Idan Raichel, Apartheid Tool, Not Cool," and "Boycott Israeli Apartheid." City Winery covered over the large glass windows that normally provide a view of their concert space from the street, possibly because the demonstration outside Raichel's 2015 concert there was visible to Raichel and attendees inside. The protesters called on City Winery, which is hosting Raichel's concerts in a number of cities, to end their complicity with Israeli apartheid, chanting "City Winery, don't you see, Art should be apartheid free." City Winery also serves a number of wines from illegal Israeli settlements.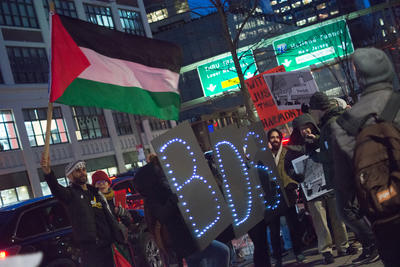 The protest was organized by Adalah-NY and Columbia Apartheid Divest for the 2017 International Israeli Apartheid Week which promotes the Palestinian-led, global campaign to carry out boycott, divestment and sanctions (BDS) initiatives against Israel until it complies with international law by ending its occupation and colonization of Palestine and apartheid policies. It came amidst ramped-up government repression of the BDS Movement worldwide. On Sunday Israel detained one of the founders of the BDS Movement, Omar Barghouti, and questioned him about fabricated charges. In New York, the state legislature has fast-tracked three bills to penalize those who boycott Israel.  
Patrick Connors from Adalah-NY explained, "We came out to protest because Idan Raichel cannot be allowed to sell himself as a progressive 'World Musician' while praising the Israeli army and participating in Israeli government PR efforts. The movement for Palestinian rights and BDS campaigns to hold Israel accountable for systematic violations of fundamental Palestinian rights are growing worldwide because they are just and effective. And they will not be stopped by government repression or bad weather." 

An Israeli government official called Idan Raichel "maybe the best ambassador that Israel has." Idan Raichel's current tour of Europe and the US is being promoted by Israeli government officials.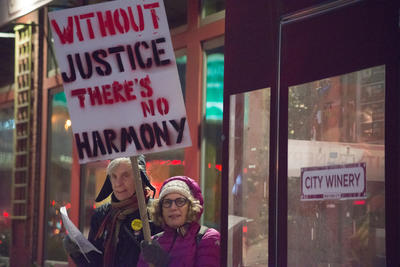 In June 2016 Raichel headlined the Israeli Consulate's Israeli Independence Day celebration in NYC, and said he was honored to and would continue to play concerts for the Israeli army, which terrorizes Palestinians and enforces Israel's apartheid regime. In 2015, he headlined a concert organized by Israel's Ministry of Foreign Affairs in Italy, and performed to welcome American Jews who had just arrived in Israel to enlist in the Israeli army. Raichel performed for the Israeli army before, during and after its August 2014 attack on Gaza, which killed over 2100 Palestinians, including 500 children. In a statement endorsing the right-wing US non-profit Thank Israeli Soldiers, he said that supporting Israeli soldiers "is a fulfillment of the Jewish ideal." His 2013 tour of Africa "was initiated and produced by the Israeli Foreign Ministry and Israeli embassies in Africa."
Protest Photos: https://adalahny.org/photo-gallery/1465/protesting-idan-raichel-city-winery-israeli-apartheid-week-2017