PROTEST BATSHEVA AT BAM, FEBRUARY 4, 2017
6:30 to 8 p.m., BAM Howard Gilman Opera House, 30 Lafayette Ave., Brooklyn
Join us as we tell Batsheva their range of motion cannot hide their support for apartheid! With music from the Rude Mechanical Orchestra and a special performance by NYC's own Freedom Dabka Group, we'll celebrate art for liberation – not occupation.
Batsheva director Ohad Naharin says that he believes in social justice and supports Palestinian rights, but he also calls boycotts and protests pointless, and doesn't acknowledge the role of his dance company in the Israeli government's Brand Israel campaign, which uses art and culture to whitewash the structural realities of apartheid and occupation. 

Like Brian Eno, who recently denied Batsheva the use of his music for its Israeli embassy-sponsored performances in Italy, we cannot accept this whitewashing. If Naharin really stands against the occupation, we invite him to show us by dismantling Batsheva's complicity with it. Until then, we will be in the streets with music and dance for liberation. They whitewash, we protest – boycott, sanction, and divest!
Read our open letter to Batsheva, signed by 20 organizations in cities on Batsheva's North American tour, asking the dance company to disavow its role as a cultural ambassador of the Israeli state.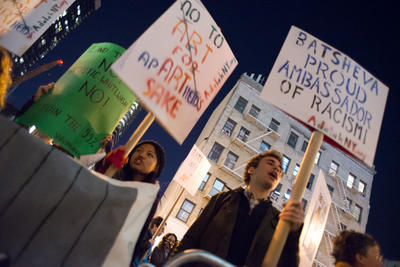 Event Location:
Brooklyn Academy of Music (BAM)
30 Lafayette Ave
outside the Howard Gilman Opera House
Brooklyn
,
NY
Event Date:
Saturday, February 4, 2017 -

6:30pm

to

8:00pm