New York, NY, July 24 – An Israeli government-supported theater initiative begins tonight at Lincoln Center, despite a protest letter signed by over 80 artists. The Lincoln Center performances are taking place against a backdrop of heightened Israeli government repression of Palestinians living under Israeli military occupation in the Gaza Strip and East Jerusalem, and revelations that 43 Senators hope to implement a law that could make it a felony for Americans to support similar boycott protests against Israel. Reported plans by Israel's anti-Palestinian Minister of Culture Miri Regev to travel to New York for the performances underline the importance the hardline Israeli government places on its Lincoln Center partnership.
In the letter to Lincoln Center the artists called for the cancellation of Monday's performance because it is part of the Israeli government's Brand Israel public relations strategy and because the Israeli theater groups involved, Ha'Bima and Cameri, have played in and legitimized Israel's illegal settlements. The signers of the letter to Lincoln Center include winners of numerous theater awards, including four Pulitzers, three Tonys, and nine Obies.
Riham Barghouti from Adalah-NY explained, "We are outraged that Lincoln Center, a respected New York cultural institution, is today actively abetting the Israeli government's efforts to distract attention from its inhumane siege on Gaza, where two million Palestinians are living without electricity or potable water, and its brutal repression of Palestinians' right to freedom of worship in Israeli-occupied East Jerusalem. We renew our call on Lincoln Center to end this complicity with Israel's violence and to join the growing number of artists worldwide who are supporting a cultural boycott of Israel, until Israel ends its systematic violations of Palestinian rights."
The letter to Lincoln Center has generated debate and widespread media coverage in outlets including The New York Times, Gothamist, Playbill, and The Jewish Daily Forward. A social media campaign by human rights supporters is emphasizing Lincoln Center's partnership in Israel's repression of the Palestinian people.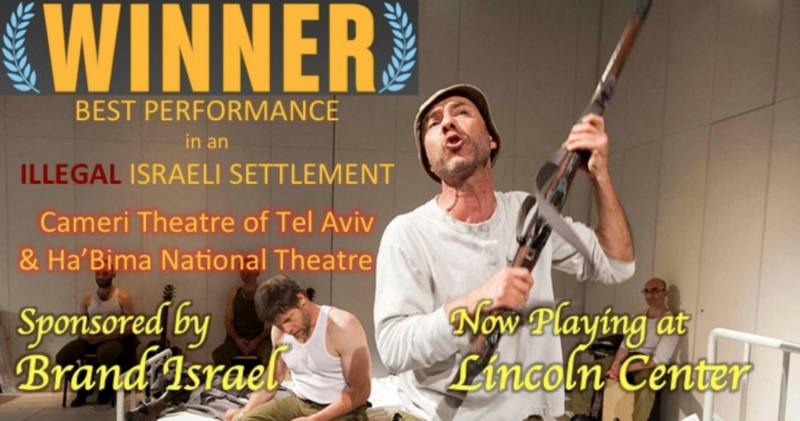 Miri Regev's anticipated presence would seem to further weaken Lincoln Center's claim that it does not make "political statements" and that "the art stands on its own." Regev, a former Israeli army spokesperson, has stirred opposition from artists in Israel and worldwide by repeatedly trying to ban the works of renowned Palestinian poet Mahmoud Darwish, requiring artists to perform in illegal settlements, and shutting down shows about Palestinian prisoners.
A few critics of the artists' letter to Lincoln Center have claimed that the Israeli performance is being singled out due to the performers' "national origin." But as playwright Dan Fishback of Jewish Voice for Peace's Artists Council explained in The Forward, "Something our critics never mention is that there's another Israeli play in Lincoln Center's upcoming festival that we are not boycotting. That's because we are not boycotting 'Israeli plays' in general, but rather plays that are either funded by the Israeli state or produced by institutions that actively support the occupation."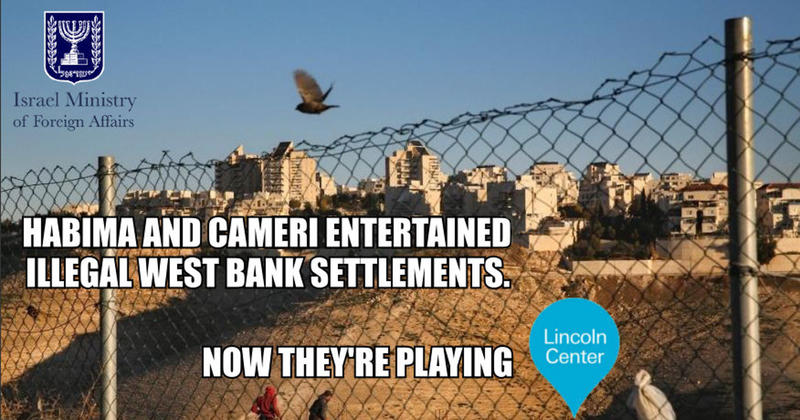 The Palestinian civil society movement for boycott, divestment and sanctions (BDS) calls for a boycott of companies and institutions that are complicit in Israel's denial of Palestinian rights until Israel ends its occupation, grants equal rights to Palestinian citizens of Israel, and implements the UN-sanctioned right of Palestinian refugees to return to their homes. Modeled on the boycott movement that helped to bring an end to apartheid in South Africa, the global BDS movement is growing rapidly with a number of international institutions and companies distancing themselves from Israel's gross violations of human rights. PEN America recently dropped Israeli government sponsorship for its annual World Voices literary festival following an appeal signed by over 240 well-known writers, poets, and publishers.