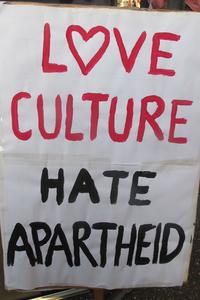 New York, NY, July 5, 2017 - In a letter made public today, over sixty theater artists have called on Lincoln Center for the Performing Arts, a leading US arts institution located in Manhattan, to cancel Israeli government-sponsored performances by two Israeli theater companies scheduled for July 24 – 27. The signers of the letter have won numerous awards for their work in theater, including four Pulitzer Prizes, three Tony Awards, and nine Obie Awards. The letter signed by the artists asserts that the performances by Israel's Ha'bima National Theatre and the Cameri Theater of Tel Aviv will help "the Israeli government to implement its systematic 'Brand Israel' strategy of employing arts and culture to divert attention from the state's decades of violent colonization, brutal military occupation and denial of basic rights to the Palestinian people."
Lincoln Center is advertising the performances by the Israeli theater companies as presented "With support of Israel's Office of Cultural Affairs in North America." The artists' letter says that the performances are part of the Israeli government's "Brand Israel" public relations strategy which, according to an Israeli Ministry of Foreign Affairs official, sends "well-known novelists and writers overseas, theater companies, exhibits…This way you show Israel's prettier face, so we are not thought of purely in the context of war." The artists also criticize Ha'bima and Cameri theaters because, despite past opposition from artists, they have repeatedly performed in and legitimized Israel's illegal settlements built on Israeli-occupied Palestinian land. The letter calls on Lincoln Center "to respect the Palestinian civil society call for a boycott of those Israeli cultural institutions that are complicit in the denial of Palestinian rights."
A second Israeli play set to be performed at the same Lincoln Center festival, but without Israeli government sponsorship, was not raised as a concern in the letter signed by artists. The letter was initiated by the New York City Palestinian rights group Adalah-NY: The New York Campaign for the Boycott of Israel. It was also signed by eighteen other organizations, including thirteen Palestinian theater and arts groups, the Palestinian Campaign for the Academic and Cultural Boycott of Israel (PACBI), and the Jewish Voice for Peace Artists Council.
In a June 27 emailed response to the letter, Lincoln Center President Debora Spar defended the performances, writing that, "we seek to bring a wide range of ideas and voices to our stages each year," and that "we do not make political statements and hope that the art we present can stand on its own."
In response, director and playwright Noelle Ghoussaini commented, "I believe it is essential that we (audiences, institutions, and artists) seek to understand the political and social context of the art we engage with. By partnering with the apartheid government of Israel, Lincoln Center is making a political statement in support Israel's occupation and systematic denial of Palestinian rights. By signing onto this letter, I urge Lincoln Center to take a stand for equality and human rights by adhering to the cultural boycott."
Mustafa Sheta, General Secretary of the Freedom Theatre in Jenin explained, "By hosting Israeli government supported performances by Israel's Ha'bima and Cameri theatres, not only is the Lincoln Center opening its prestigious doors to institutions deeply complicit in the oppression of Palestinians, including theatre workers, artists, musicians and cultural organizations. It is also making a clear political choice to play a supporting role in Israel's cynical use of the arts to cover up decades of denying Palestinian rights. Lincoln Center should reject that role and instead join theatre artists supporting the Palestinian call to boycott Israeli cultural institutions complicit in our oppression, until we are free to write our own future."
Pulitzer Prize-winning playwright Annie Baker, a signatory to the letter, commented, "I think the phrase 'cultural boycott' scares people, and it's important to remember that a) it's not a boycott against individual artists or nationalities, and b) it has historical precedent as an extremely effective way to call attention to apartheid (yes, Israel is an apartheid state) and influence policy."
MJ Kaufman, a member of Jewish Voices for Peace's Artists Council, added that, "As a Jewish American playwright I do not condone the use of theater to cover up Israel's human rights abuses. Our work should expose and call attention to violence and inequality, not obscure it. I am disturbed by the Israeli government using theater to justify occupation and colonization. Out of solidarity with the Palestinian and Israeli artists who have called for Ha'bima and Cameri to stop performing in Israel's illegal settlements and on the Israeli government to stop using art and theater to justify occupation, I call on Lincoln Center to cancel these performances."
The Palestinian civil society movement for boycott, divestment and sanctions (BDS) calls for an economic, cultural, and academic boycott of companies and institutions that are complicit in Israel's denial of Palestinian rights until Israel respects the rights of Palestinians, whether living under Israeli military occupation, as unequal citizens of Israel, or as refugees who are denied their right to return to their homeland. The Palestinian BDS is modeled on the global boycott movement that helped to bring an end to apartheid in South Africa.
PEN America recently dropped Israeli government sponsorship for its annual World Voices literary festival following an appeal signed by over 240 well-known writers, poets, and publishers.
Click to view the letter signed by artists and sent to Lincoln Center.