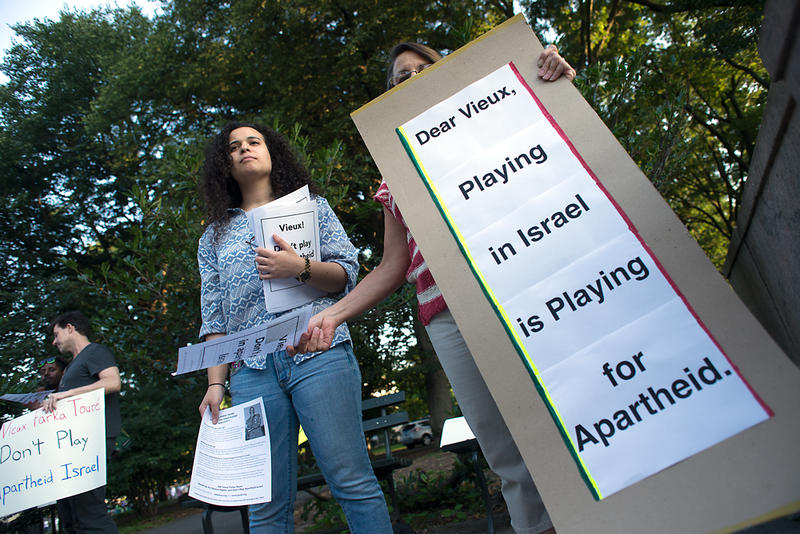 July 16, New York, NY - Outside the Brooklyn concert of Malian musician Vieux Farka Touré this evening, human rights advocates held signs and handed out hundreds of flyers calling on Vieux Farka Touré to cancel his scheduled August 25 concert in Eilat, Israel.
Many concert attendees expressed surprise and concern when they learned that Vieux Farka Touré planned to play in Israel, and a number said they supported the call for him to cancel his Israel concert. One attendee, a former campaigner against apartheid in South Africa, took a sign and joined the protesters. He said that he had recently spoken with Vieux Farka Touré's management, urging Vieux to cancel his show in Israel.
Vieux Farka Touré has received letters from Palestinian, South African and Israeli civil society groups calling on him to comply with the Palestinian boycott call and cancel his show in Israel. The groups also criticized his partnership with Israeli musician Idan Raichel, an outspoken supporter of the Israeli government and army. The Palestinian-led civil society movement for boycott, divestment and sanctions (BDS) targeting Israel, is modeled on the boycott campaign that helped to end Apartheid in South Africa. It aims to pressure Israel to respect the basic rights of the Palestinian people, whether currently living under Israeli military occupation, as unequal citizens within Israel or as refugees in the diaspora.