Emergency Demonstration!
The government of Egypt is denying international activists from the Gaza Freedom March and from Viva Palestina access to the Gaza Strip, clearly demonstrating the Egyptian Government's complicity with Israel in maintaining the criminal siege of the Gaza Strip.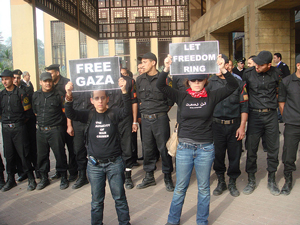 Tell Egypt to open its border with the Gaza Strip,
let people and goods in and out

Thursday December 31st, 1 PM
EGYPTIAN MISSION TO THE UN
304 East 44th St.
(btwn 1st & 2nd Ave)
One year ago, on December 27th, Israel began its assault on Gaza that killed around 1400 Palestinians. Since then, Israel has tightened its siege on the Gaza Strip, with Egyptian support. Egypt, in cooperation with Israel, is preventing vital basic goods, needed for reconstruction and for normal life, from reaching Gaza and preventing people from leaving and entering Gaza.
Over 1300 international human rights activists have traveled to Egypt with the Gaza Freedom March in order to march with Gazans against Israel's siege on December 31st. Instead, Egypt has prevented the activists from even getting on buses to Gaza, told them they will not be allowed to cross into Gaza and called them "hooligans."
Also, on December 31st from 4:30-5:30 PM, join Women in Black Union Square as they stand in solidarity with Gaza and the Gaza Freedom March on the little traffic island at 14th Street and Broadway.
Event Location:
EGYPTIAN MISSION TO THE UN
304 East 44th St.
(btwn 1st & 2nd Ave)
New York
,
NY
Event Date:
Thursday, December 31, 2009 -

1:00pm

to

3:00pm