Protest the Hebron Settlers' Manhattan Fundraiser:
Stand Up Against Racism & Violence
The Hebron Fund has scheduled the "Hebron Aid Flotilla," a pleasure cruise to raise funds for illegal Israeli settlements in occupied Hebron, Palestine.
Such settlements are one of the main obstacles to peace in the region. Hebron has also been the site of some of the most egregious and racist attacks on Palestinian civilians – men, women and children. There will be a silent picket in protest against the fundraiser.
Tuesday, November 16th, 5:30 – 7:00 pm
Meet 5:30, Chelsea Pier
23rd Street & West Side Highway
Silent protest – Signs provided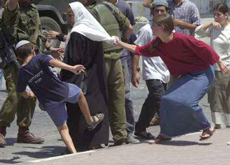 Hebron is a West Bank Palestinian city of 150,000 where 500 Israeli settlers are backed up by thousands of soldiers from the Israeli Army.
Human Rights organizations have documented regular physical violence against Palestinians and destruction of their homes and fields by settlers trying to drive them out of their land.
By supporting the growth of such settlements, the Hebron Fund is violating international law, as well as the Obama administration's call for a freeze on new settlements in the Occupied Palestinian Territory.
Please join us in protesting the Hebron Fund's annual fundraiser dinner supporting the illegal settlement movement that is displacing and brutalizing Palestinians.
END THE SIEGE OF HEBRON: END THE SIEGE OF GAZA: FREE PALESTINE
Endorsed by: American Jews for a Just Peace, Adalah-NY, Al-Awda NY, Brooklyn For Peace, Code Pink, Columbia University Students for Justice in Palestine, Delaware Valley Veterans for Peace, Israeli Committee Against House Demolitions-USA, Jews Say No!, Jewish Voice for Peace, Middle East Crisis Response, Siege Busters working group, WESPAC, Women in Black – Union Square, Women of a Certain Age, War Resisters League, Woodstock Veterans for Peace. For more information e-mail  info@adalany.org .
Event Location:
Chelsea Pier
23rd Street & West Side Highway
New York
,
NY
Event Date:
Tuesday, November 16, 2010 -

5:30pm

to

7:00pm