Nonviolent Resistance to Israeli Apartheid in Palestine
Please join us for:
A screening of the documentary "Bil'in My Love" ("Bil'in Habibti"), followed by a talk by the film's director Shai Pollak, and Palestinian activist Mansour Mansour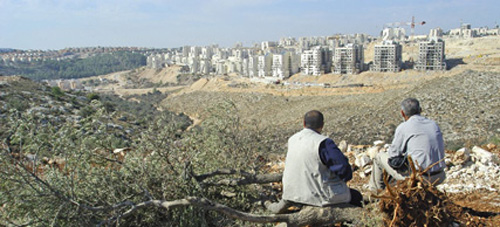 Monday, March 3 at 7:00 PM
Judson Memorial Church
239 Thompson St.
(just South of Washington Square Park)
Sponsored by: Adalah-NY & NYC War Resisters League
-Bil'in My Love (Bil'in Habibti): The award-winning documentary (http://www.youtube.com/watch?v=WynTOY04Ac8) about the West Bank village of Bil'in's three year nonviolent struggle against Israel's wall and settlements
-Mansour Mansour: Palestinian activist from the West Bank village of Biddu, near Jerusalem
-Shai Pollak: Israeli activist and filmmaker, director of the documentary "Bil'in My Love" and member of Israel's Anarchists Against the Wall
The village of Bil'in's campaign of creative, nonviolent resistance to Israel's wall & settlements inspired the New York campaign to boycott settlement builders & NYC developers Lev Leviev & Shaya Boymelgreen. Leviev & Boymelgreen built settlement homes on Bil'in's land.
In Bil'in last week, according to the Israeli newspaper Ha'aretz Daily, "More than 20 activists were wounded Friday as Israel Defense Forces troops fired rubber bullets and tear gas grenades at protesters marking three years of struggle against the West Bank separation fence in the West Bank town of Bil'in. More than 1,000 people attended the milestone demonstration Friday." http://www.haaretz.com/hasen/spages/957107.html
Event Location:
Judson Memorial Church
239 Thompson St.
(just South of Washington Square Park)
New York
,
NY
Event Date:
Monday, March 3, 2008 -

7:00pm

to

9:30pm