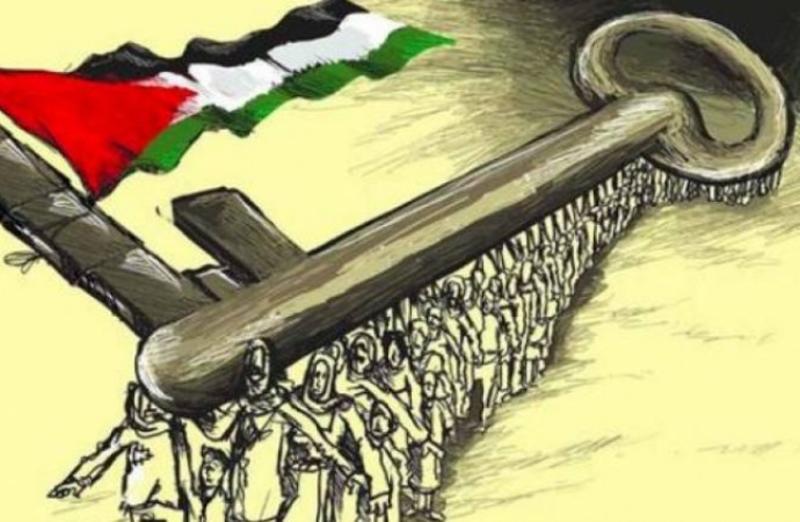 Please join us this Saturday in Grand Central Station to commemorate the Nakba — with grief, heartbreak, rage, and recommitment to action.
This past Tuesday, May 15 marked the 70th anniversary of the Palestinian Nakba. Nakba, Arabic for "catastrophe," describes the mass expulsion of 750,000 - 1,000,000 indigenous Palestinians and the destruction of over 500 Palestinian villages that Zionist settlers carried out in  1947-1949  in order to establish a Jewish-majority state. The Nakba has continued ever since through different forms of political, legal and military violence, including the ongoing theft of Palestinian land to build Jewish-only settlements; the military detention of Palestinian men, women and children; and the 12-year siege of Gaza. 
The day prior, Monday, May 14, Israeli forces killed over 60 Palestinians in besieged Gaza and wounded thousands. This is the response to the near-culmination of the historic #GreatReturnMarch, where for seven weeks, tens of thousands of Palestinians — families, children, elders — have been gathering along the fence that keeps 2 million people penned in in an open-air prison. They've been mobilizing creatively, bravely, with reading circles and kite flying and Dabke dancing, demanding the right to live out their lives freely, and the right to return home.
Join us on Saturday to commemorate the Nakba — from its origins 70 years ago to its ongoing manifestation today. Join us in honoring the struggle to return home with creative, educational visuals, singing and chanting. And join us in commemorating 70 years of historic resistance, as we struggle together towards a future where all Palestinians are free.
Remember, Resist, Return. Free Palestine.
************
Co-hosted by:
Adalah-NY: The NY Campaign for the Boycott of Israel
Palestine Solidarity Alliance of Hunter College
NYU - Students for Justice in Palestine
NYU - Jewish Voice for Peace
Jewish Voice for Peace - NYC
Jews Say No!
NYC Queers Against Israeli Apartheid
Apartheid Divest CUNY
Event Location:
Grand Central Terminal
New York
,
NY
Event Date:
Saturday, May 19, 2018 -

2:00pm

to

3:30pm