Adalah-NY presents
We Teach Life: Rafeef Ziadah, with Phil Monsour
Join critically acclaimed Palestinian spoken-word artist Rafeef Ziadah for the NYC release of her new album, We Teach Life. The evening will feature a powerful selection of Rafeef's poetry in her signature performance style, with original music compositions from Phil Monsour.
Tickets ($5–$15 sliding scale): https://we-teach-life.eventbrite.com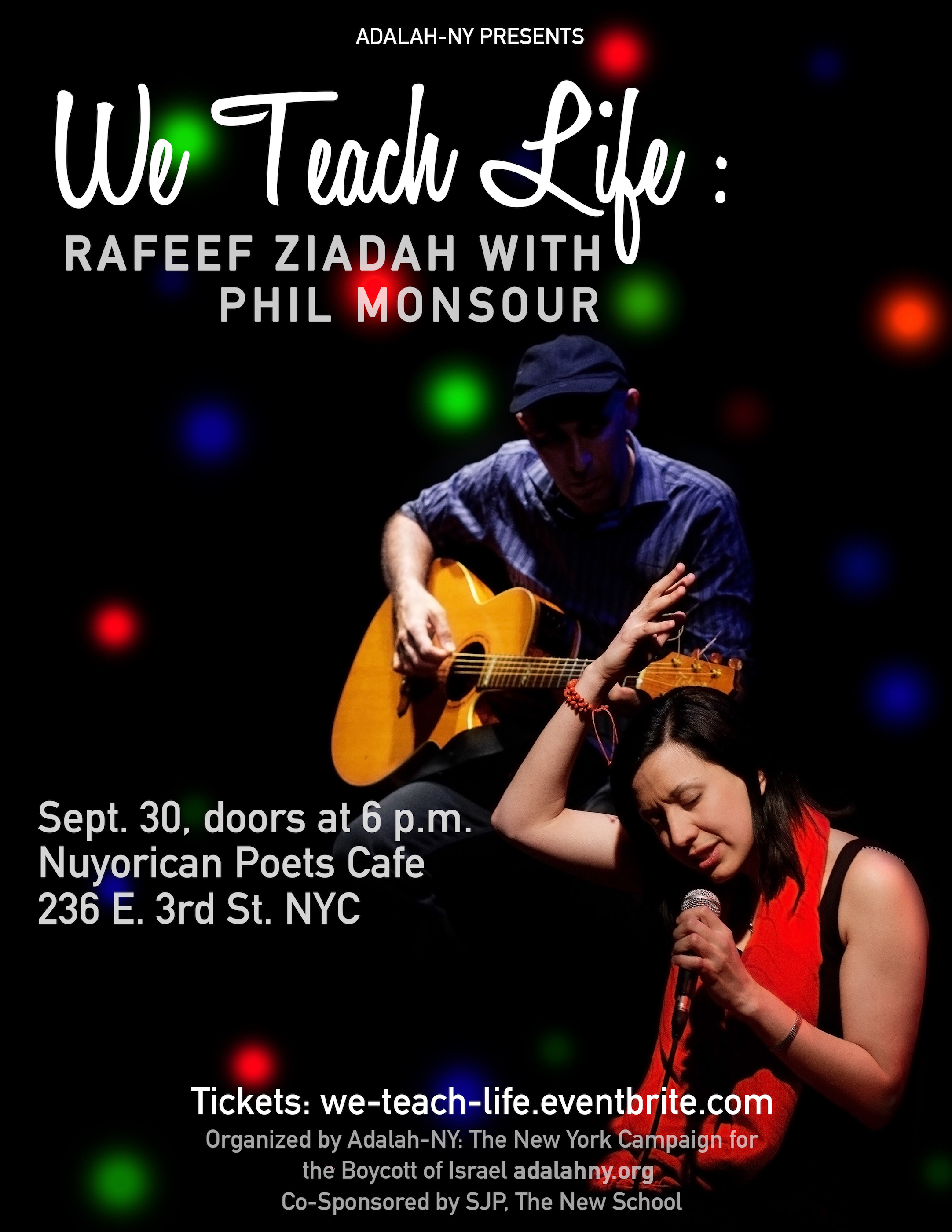 "Rafeef's poetry demands to be heard." – Ken Loach
"Sometimes anger provokes truth: bare, free, not to be stifled or evaded. Sometimes anger, indignation, despair, full blown love of the life of one's people, one's own land and planet, can bring fierce flower to the poet's heart. Then we are blessed with passionate words of resistance that can become the foundation of prophecy. A change for which there is no turning back. Such is the case of this poet." – Alice Walker
Rafeef Ziadah is a Palestinian performance poet and human rights activist based in London. Her performances of her poems 'We Teach Life, Sir' and 'Shades of Anger' went viral online within days of their release. Since the debut of her first album, Hadeel, Rafeef has toured many countries, and in 2012 she was chosen to represent Palestine at the Southbank Centre Poets Olympiad.
Phil Monsour is a singer/songwriter whose music explores complex issues of identity, solidarity, and politics. Based in Brisbane, Phil has extensive performing and recording experience as a solo performer and with his bands, the Phil Monsour Band, the Cutters, and Popproperly.
Organized by Adalah-NY: The New York Campaign for the Boycott of Israel. Cosponsored by The New School Students for Justice in Palestine.
Invite your friends and spread the word on Facebook! 
 
Event Location:
Nuyorican Poets Cafe
New York
,
NY
Event Date:
Friday, September 30, 2016 - 6:00pm