TO:
Combined Systems, Inc.
Jamestown, Pennsylvania
FROM:
Adalah-NY: The New York Campaign for the Boycott of Israel (adalahny.org)
CodePink: Women for Peace (www.codepink4peace.org)
Jewish Voice for Peace (www.jewishvoiceforpeace.org)
The US Campaign to End the Israeli Occupation (www.endtheoccupation.org)
DATE: January 3, 2011
Dear Combined Systems Inc.,
As US groups committed to justice and peace, we are writing to ask that Combined Systems Inc. cease providing CSI equipment to the Israeli government in response to the Israeli military's ongoing and foreseeable misuse of CSI crowd control equipment to kill and maim protesters in the Occupied Palestinian Territories. The Israeli military has demonstrated a pattern of misuse of your equipment, directly leading to the death and injury of unarmed demonstrators in the Occupied Palestinian Territories. Over the last two years alone, the Israeli military has used your products to kill two peaceful protesters from one family in the West Bank village of Bil'in, to severely injure two peaceful protesters from the US, and to seriously injure many more. According to the the Israeli human rights group B'Tselem, two other Palestinians were killed by Israeli tear gas in 2002.[1]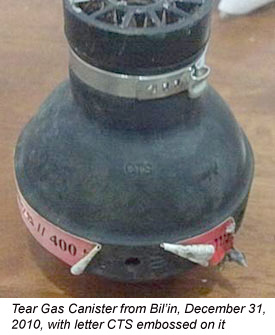 As noted on CSI's website, "Israeli Military Industries" are among CSI's "military customers and development partners." CSI has an ethical and legal responsibility to ensure that the Israeli government is using CSI products according to product guidelines. Unfortunately, the Israeli military has a well-documented track record of systematically using excessive force against civilians, including with CSI products as outlined below, and thus is not an appropriate customer for CSI.
Furthermore, it is our understanding that the tear gas sent by CSI to the Israeli military may be provided as part of the US government's military aid to Israel. For example, for 2007 and 2008, the US State Department approved the commercial sale of $1.85 million worth of "tear gases and riot control agents" to the Israeli government.[2] As taxpayers, we strongly object to the possibility that CSI may be using our tax dollars to support Israel's repression of Palestinian rights.
Most recently, on December 31st, 2010, Israeli soldiers fired what was described by multiple eyewitnesses as excessive tear gas at protesters in the West Bank village of Bil'in, resulting in the death of 36 year-old Jawaher Abu Rahmah from Bil'in. Around 1,000 Palestinians, Israelis and foreigners were demonstrating in Bil'in that day against Israel's construction of a wall through village land, separating residents from their livelihoods in violation of international law. According to Jawaher's mother Subhiyeh who was with her at the time, "We weren't even very close to them and the soldiers fired tear gas at us… Jawaher told me that her chest hurt and she couldn't breathe. Then she fell down and started vomiting."[3] Jawaher was taken by ambulance to a nearby hospital where she died the next morning from cardiac arrest. Protesters gathered tear gas canisters used by Israeli soldiers at the December 31st protest, including one very common canister with the letters CTS written on it.[4] CTS, short for Combined Tactical Systems, is a brand name of CSI.[5]
Tragically, Jawaher Abu Rahmah was the second person in her family to be killed by tear gas that was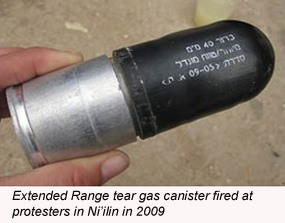 apparently provided to the Israeli army by CSI. Jawaher's brother Bassem Abu Rahmah was killed on April 17, 2009 at a peaceful protest in Bil'in when he was hit directly in the chest by a CSI tear gas canister fired from a gun by an Israeli soldier. The Israeli human rights organization B'Tselem reported in an April 21, 2009 letter to the Israeli military's Judge Advocate General that the direct firing of tear gas at protesters was common practice and violated both Israeli open-fire regulations and CSI product instructions, saying, "The Open‐Fire Regulations require that tear‐gas grenades fired from a launcher be carried out by indirect fire, with the barrel of the rifle aimed upwards at a sixty‐degree angle. The Website of CSI, the American company that manufactures the extended range grenades, explicitly points out that the grenades are not to be fired at individuals, since doing so is liable to cause injury or death."[6] West Bank protesters have collected examples of CSI extended range grenades that were fired at protesters (see sample photo below from 2009). In response to an Israeli reporter's submitted query, an Israeli army spokesperson has confirmed in writing that the extended range projectiles are produced by CSI. CSI's website also explains that these canisters are intended to break indoor barricades.[7] Different CSI products are labeled for outdoor use.
B'Tselem further documented that among those hit by extended range canisters fired directly at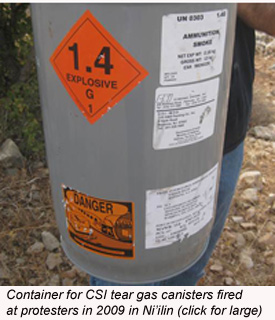 protesters was US citizen Tristan Anderson in March 2009. According to B'Tselem, "On 13 March, a Border Police officer fired an extended-range type tear-gas canister that struck Tristan Anderson, an American citizen, during a demonstration in Ni'ilin. B'Tselem's investigation reveals that the police officer fired the canister directly at Anderson from 60 meters away… The grenade struck him in the forehead, fracturing his skull and injuring the front lobe of his brain."[8] The canister "caused severe traumatic brain injury and blindness in his right eye."[9] Anderson, who remains in a wheelchair, "has not yet regained the use of the left side of his body."[10] (Update from July 2013) According to Tristan's partner, Gabrielle Silverman, Tristan is paralyzed on half his body. He requires 24-hour assistance because he is severely cognitively disabled as well as physically disabled.
In a September, 2010 report, The Popular Struggle Coordination Committee, a coordinating body for unarmed demonstrations in the West Bank, noted that, "According to Palestinian Red Crescent records in Bil'in and Ni'ilin, 18 people have been directly shot at and hit by the high velocity projectiles since their introduction, in these two villages alone."[11] In addition to the killing of Bassem Abu Rahmah and injury of Tristan Anderson, other severe injuries include those to Bil'in resident Khamis Abu Rahmah who "suffered a fractured skull and brain hemorrhage after being struck in the back of his head with an extended range tear gas projectile. "
Another US citizen, 21-year-old Emily Henochowicz, lost her left eye when an Israeli soldier fired an aluminum tear gas canister directly at her, striking her face during a West Bank protest on May 31, 2010.[12] Protesters have also collected numerous aluminum tear gas canisters with CSI and CTS initials on them that were fired by Israeli soldiers at protesters (see below).
Though B'Tselem reported on May 4, 2009 that Israel's Judge Advocate General forbade the firing of tear gas canisters directly at protesters, [13] the Popular Struggle Coordination Committee[14] and the Israeli newspaper Ha'aretz[15] documented in December 2010 that the Israeli military has continued to fire extended range tear gas canisters directly at protesters.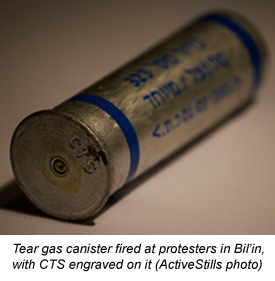 Reports by diverse human rights groups including B'Tselem, Human Rights Watch[16] and the UN Fact Finding Mission on the Gaza Conflict[17] have documented Israel's use of excessive and lethal force against civilians. These reports, and the cases cited above of Israel's specific misuse of CSI products, demonstrate clearly that CSI cannot rely on the Israeli military to use CSI products in an appropriate manner without undue death and severe injury to civilians. Therefore, CSI is obligated to end its sale of these products to the Israeli government.
Thank you for your attention to this issue. We look forward to your response.
---
[1] http://btselem.org/english/statistics/
[2] http://www.fas.org/programs/ssp/asmp/factsandfigures/government_data_index.html#655
[3] http://www.aolnews.com/2011/01/02/palestinian-protester-jawaher-abu-rahmah-dies-from-tear-gas-inha/
[4] Photo above resembles this CSI/CTS model: http://combinedsystems.com/less-lethal/Flash-Bang/Flash-Bangs-Tear-Ball.aspx
[5] http://www.combinedsystems.com/About_us.aspx, see CTS products: http://combinedsystems.com/less-lethal/CTS%20Catalog%202009.pdf
[6] http://www.btselem.org/Download/20090421_Letter_to_JAG_concerning_the_shooting_of_Bassem_Abu_Rahmah_English.pdf
[7] http://combinedsystems.com/less-lethal/Chemical-Munitions/Chemical-Munitions-40mm-Penetrators.aspx
[8] http://www.btselem.org/English/Firearms/20090318_Firing_of_Tear_Gaz_at_Demonstrators.asp
[9] http://www.democracynow.org/2010/11/16/in_first_interview_since_critical_injury
[10] http://justicefortristan.org/
[11] http://www.popularstruggle.org/content/under-repression
[12] http://www.democracynow.org/2010/8/5/exclusiveemily_henochowicz_speaks_out_art_student
[13] http://combinedsystems.com/less-lethal/CTS%20Catalog%202009.pdf
[14] http://www.popularstruggle.org/content/demonstrator-suffers-head-injury-after-being-hit-directly-tear-gas-projectile-nabi-saleh
[15] http://www.popularstruggle.org/content/idf-resumes-use-prohibited-tear-gas-canisters
[16] http://www.hrw.org/en/reports/2005/06/21/promoting-impunity-0
[17] http://www2.ohchr.org/english/bodies/hrcouncil/docs/12session/A-HRC-12-48.pdf